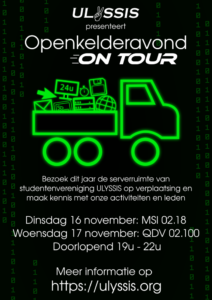 Ben je geïnteresseerd in de werking van ULYSSIS? Wil je graag weten hoe we onze servers onderhouden? Of wil je graag zelf bij ULYSSIS aan de slag? Bezoek dit jaar de serverruimte van ULYSSIS op verplaatsing waar onze leden je graag een woordje uitleg geven en al je vragen beantwoorden!
Tussen 19 en 22 uur leggen we je uit hoe we de 24 urenloop aanpakken, kan je een van onze servers komen bekijken, vertellen we hoe we bijdragen aan open source software voor studenten en kan je ook zelf aan de slag met een CTF challenge. Voel je dus de nieuwsgierigheid knagen? Zorg dan zeker dat je er bent. Je bent welkom op:
– Dinsdag 16 november in MSI1 02.18, Erasmusplein 2, 3000 Leuven
– Woensdag 17 november in QDV 02.100, Celestijnenlaan 200H, 3001 Heverlee
Wilde je graag wat bijleren over onze werking maar kan je er jammer genoeg niet bij zijn? Dan kan je als alternatief ook heel wat informatie vinden op aanwerving.ulyssis.org of op onze pagina "Hoe is het om een ULYSSIS medewerker te zijn?".