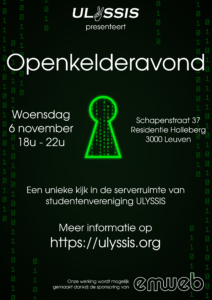 Naar jaarlijkse gewoonte zet ULYSSIS op woensdag 6 november haar deuren voor iedereen open. Ben je geïnteresseerd in de werking van ULYSSIS? Wil je graag weten hoe we onze servers onderhouden? Of wil je graag zelf bij ULYSSIS aan de slag? We geven je graag een woordje uitleg en bij onze leden kan je met al je vragen terecht!
Tussen 18 en 22 uur kan je onze servers bekijken en tonen we je graag wat voor onderhoud we verrichten, hoe we de 24 urenloop aanpakken, wat voor software we ontwikkelen en nog veel meer. Voel je dus de nieuwsgierigheid knagen? Zorg dan zeker dat je er bent. Je kan ons terugvinden in Residentie Holleberg, Schapenstraat 37, Leuven.
Wilde je graag wat bijleren over onze werking maar kan je er jammer genoeg niet bij zijn, of kan je je nieuwsgierigheid niet bedwingen? Heel wat meer informatie kan je, samen met onze contactgegevens, vinden op onze pagina "Hoe is het om een ULYSSIS medewerker te zijn?".