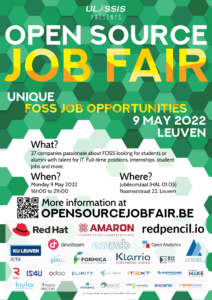 Net zoals twee jaar geleden organiseert ULYSSIS een jobbeurs gericht op bedrijven die open source ontwikkelen, ondersteunen of gebruiken als basis voor hun dienstverlening. Op deze manier hopen we een alternatief te bieden voor de klassieke consultancy jobs en de grote multinationals. Het is dé gelegenheid voor studenten om met hun enthousiasme voor open source, Linux en Unix in contact te komen met gelijkgestemde werkgevers. Maar ook zij die nog niet afstuderen zijn zeker welkom voor stages, onderzoeksplaatsen of andere samenwerkingsmogelijkheden.
Ontdek onze open source bedrijven op 9 mei in de Jubileumzaal van de universiteitshallen van 16u00 tot 21u00. Net zoals vorig jaar gaan we van start in de late namiddag en blijven we tot 's avonds open. Zo kunnen ook studenten met veel les of van andere studentensteden en campussen onze jobbeurs bezoeken. Meer informatie, alle bedrijven, links naar sociale media en reminders kan je vinden op https://opensourcejobfair.be
Deze bedrijven zijn van de partij: Red Hat, redpencil.io, Amaron, emweb, ICTS (KU Leuven), Klarrio, Atmire, Devoteam, Open Analytics, Formica, i8c, Redify, Inmanta, Odoo, IS4U, Elimity, Inuits, Versasense, GIM, FusionDirectory, B12 Consulting, Open-Future, iText, Xenit, Axians, Guardsquare, en Flanders Make.