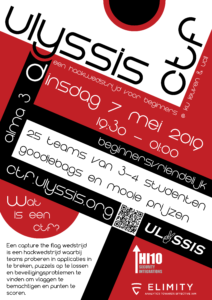 ULYSSIS CTF is een cybersecurity en hackwedstrijd voor studenten aan de Association KU Leuven, vooral voor deelnemers met weinig of nog geen ervaring met dit soort wedstrijden.
25 teams van 3-4 studenten kunnen deelnemen op dinsdag 7 mei 2019 van 19u30 tot 1u00 op de eerste verdieping van Alma 3, Heverlee.
Er zijn prijzen voor de top 3 teams en het beste bachelorteam. Deelnemers maken kans op een Ultimate Ears BOOM 2 bluetooth speaker, een Raspberry Pi starter kit of een iFixit Mako Precision 64 Bit Set. Daarnaast krijgt elke deelnemer een T-shirt en een goodiebag met leuke goodies.
Meer informatie kan je vinden op https://ctf.ulyssis.org/2019/
Wees er snel bij, want de plaatsen zijn beperkt en zeer gegeerd!