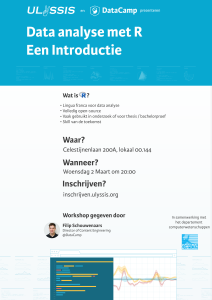 Statistiek voor een paper nodig maar nooit gehad in de les? Vielen SPSS of STATISTICA best tegen? Weet je eigenlijk nog niets van R of statistiek en wordt dat eens hoog tijd?
ULYSSIS en Datacamp organiseren samen een workshop die de basis van statistiek in R toelicht.
Geen enkele voorkennis is vereist. We beginnen bij het complete begin en na 2 uur ben je in staat zelf een dataset te analyseren en visualiseren.
Vergeet je niet in te schrijven op inschrijven.ulyssis.org, daar vind je ook de installatie-instructies.
Wil je op de hoogte blijven van onze andere workshops? Schrijf je dan in op onze workshop mailinglist via de widget in de zijbalk op deze website.