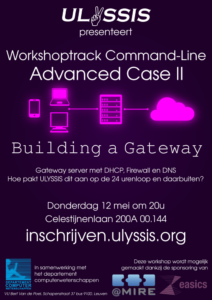 Dit jaar organiseert ULYSSIS een volledige track van 5 workshops over het werken met de UNIX Command-Line Interface.
Deze vijfde workshop is een concrete case vanop de 24 urenloop maar is van toepassing op allerhande grotere netwerken.
Thuis of op kot zit je goed met een simpele modem-router-AP-combo. Maar op de 24 urenloop, in een groot (bedrijfs)netwerk of als je wat meer controle wil, heb je al snel nood aan dure "enterprise" toestellen. Een veel goedkopere en leukere oplossing is je eigen gateway server bouwen om een aantal taken over te nemen.
We bouwen tijdens deze workshop een simpele gateway server op Linux die onder meer DHCP, Firewall en DNS levert. We bekijken hoe we dynamische en statische DHCP doen met isc-dhcp-server, simpele policy firewalling zowel als het blokkeren van ongewenste applicaties via shorewall, simpele DNS caching/forwarding met bind9. Indien er genoeg tijd is bekijken we ook hoe je een site kan afleiden naar een interne versie zoals ULYSSIS doet op de 24 urenloop, hoe ook DNS lichte firewalling kan doen en wat simpele monitoring.
Vergeet je niet in te schrijven op https://inschrijven.ulyssis.org
Blijf op de hoogte van al onze workshops door je in te schrijven op onze mailinglist via het formulier in de zijbalk.