V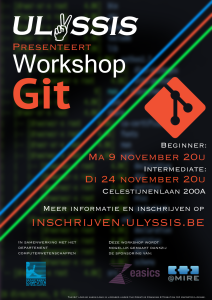 ind je het eigenlijk toch onhandig om je projectcode of LaTeX-documenten via Dropbox met elkaar te delen? Heb je per ongeluk het verkeerde bestand gewist, of wil je toch nog eens vergelijken met hoe je dat vorige week gedaan had? Zoek je nog altijd een manier om tegelijk hetzelfde bestand aan te passen zonder meerdere kopieën te moeten maken? Voor al deze situaties biedt git een oplossing.
In de beginnersworkshop wordt de basis van git uitgelegd. Het doel is om aan het einde van deze workshop overweg te kunnen met alle concepten om op een efficiënte manier samen te kunnen werken met andere mensen. Het doel van deze workshop is een basisworkflow ontwikkelen gebaseerd op branches en mergen
Tijdens de intermediate workshop komen meer geavanceerde concepten aan bod. We overlopen onder andere de voor- en nadelen van rebasen vs. mergen en bekijken enkele minder bekende, maar zeer handige features, zoals submodules, bisecting en hooks.
Meer info en inschrijvingen op inschrijven.ulyssis.org